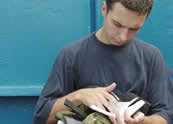 Lista de exámenes

Nivel de lengua

Material de viaje

Sitios de interés

Se buscan chicas europeas para ir de au pair a INGLATERRA a partir de septiembre (durante un mínimo de 6 meses)




Executive Business Course

The small-group Executive Business Course (EBC) is an intensive and flexible programme of 30 fifty minute lessons weekly, organised to meet the precise requirement of discerning executive clients. The maximum class size is 4, with course duration being one-3 weeks.

Language entry Level

The EBC is intented for participants who have an English-language level in the Intermediate range, ie IELTS 4.5 to 5.5 BBSI provides an on-line test on the school's Internet Website at www.bbsi.co.uk . BBSi also provides a pre-course testing service by telephone to establish individual needs. The Website also a pre-course task for client, to enable clients to prepare for their training at BBSI and thus optimise the learning process.

Course Content

The EBS focuses on building communicative ability for a fast-moving business world. The course will enable participants to develop strategies and language skills in a challenging and dynamic environment, through activities such as realistic case studies and discussion of business issues. Moreover , the content of the course is fluid, taking account of individual needs, while covering essential skills, such as participation in and the management of meetings, telephone communications, persuasive presentations, effective negotiations and business writing.

Throughout the course there are frequent business lunches and social events, where delegates, accompanied by tutorial staff, will have the oportunity to practise English in a relaxed social setting. The Ebc concludes with constructive feedback on the progress of trainee, and personalised advice for maintainig the skills developed during the course.

Accomodation

Accommodation can be arranged either in an executive style host family or in a local hotel or guest house, depending on preference.

Course Availability

The EBC can be joined fortnightly throughout the year. Trainee will have their level of English confirmed on arrival and will be placed in a class at an appropriate level.